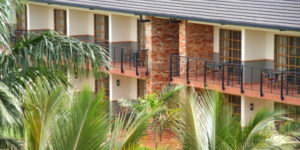 Located 12 kilometres from the capital city of Kampala, Speke Resort Munyonyo offers accommodation on the shores of Lake Victoria. Speke Resort Munyonyo was built in 2001 and also offers conferencing facilities in addition to accommodation for tourists.
The resort has 59 Presidential suites with a unique blend of traditional Ugandan décor, in addition to cottages, one bedroom and two bedroom apartments or studio rooms. The hotel has a total of 335 rooms.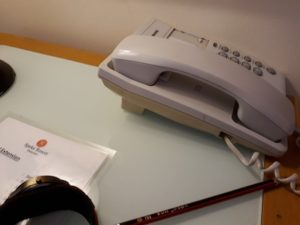 Though grand in its exterior appearance, the hotel failed to impress our team as some of rooms were on the smaller side and the in-room facilities were not truly world class. Or maybe, having lived in Dubai, the Ugandan level of modernity does not probably matched to our expectations. The telephone on our room, for example, looked more like an antique piece than a modern gadget (see pic).
As the resort was built way back in 2001, the rooms seem to be old and in need of renovation.
Even the outdoor patio restaurant was infested with mosquitos making it almost impossible to enjoy the beautiful settings.
The breakast buffet, however, was excellent and had a good spread of all kinds of food even though the service could have ben better.
During our stay at the resort, we found the hotel got be predominantly a venue for business meeting and international events – hence the crowd was more the suited-booted executives types and not the usual holiday crowd you would expect at a resort. A bit too formal for our liking, honestly.
---
Speke Resort Munyonyo
P.O. Box 446, Kampala, Uganda
Kampala – Uganda
Tel: +256 414 227 111/ +256 417 716 000
---