Middle East travellers and thrill seekers will absolutely love a trip to Namibia and Botswana. Both countries have a varied topography and offer excellent opportunities for offloading and experiencing the wild side of life.
The gigantic dunes of Sossusvlei, in the heart of the Namib Desert, is undoubtedly one of the most iconic sights in Africa. Climbing these huge iconic sand dunes as the sun rises is an experience that must be on your bucket list – the sight is also a photographer's dream.
The dunes have been sculpted by the wind over millions of years, and some of them have become petrified over time.
The nearby NamibRand Nature Reserve lies on the eastern edge of the Namib Desert and contains a desert tapestry of colours and shapes that make it a visual utopia for those in search of natural beauty on a safari holiday. Game species found in the reserve include oryx, zebra, ostrich, giraffe, several species of antelope, and a wide variety of smaller desert creatures. Over a hundred species of birds have also been recorded in the region.
And its pocket friendly too – a self-drive trip of approximately 10 days could cost a more affordable $3,000 per person – including international flights from the GCC.
Botswana on the other hand is a top destination for adventure traveller from all across the world. The country has the highest elephant population in the world.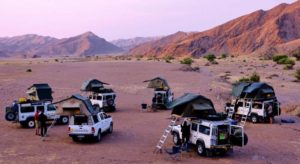 Tourists from the Middle East will love to travel through Botswana, where fewer tourists, thriving wildlife populations and magnificent and diverse landscapes add up an incomparable safari experience. To top it all, Botswana known as a progressive, democratic nation that has protected 40 per cent of its habitat for wildlife and has abandoned mass tourism in favour of low volume and high-quality safari tours.
On a typical Botswana safari, you'll explore the varied terrain from the dry grassy plains of the Kalahari Desert to the lush, waterlogged Okavango Delta, the world's largest inland delta. Each unique region features an abundance of wildlife: elephants, buffaloes, hippopotamuses, wildebeests, giraffes, crocodiles, lions, cheetahs, leopards, hyenas, antelopes, rhinoceroses, zebras, warthogs and baboons. You can even customize a safari experience to include the savannas of the Moremi game reserve or the woodland and mopane forests of Botswana's Chobe and Linyanti regions, renowned for their predators and large concentrations of game, particularly elephants. Finish your Botswana experience by visiting one of the Seven Natural Wonders and the largest waterfall in the world – Victoria Falls.
This video courtesy of Wild Images Online takes you over the spectacular topography of Namibia and Botswana to help you get a feel of the spectacular adventure these countries have to offer. Enjoy the flight…